As we celebrate Earth Day at Verdi Commerce we want to renew our commitment to promoting sustainability and raising awareness about the importance of reducing waste in the retail industry. There is a lot of work to do in moving the retail industry onto a more sustainable trajectory, and we are committed to helping our customers and brand partners transition to a more circular economy.
The True Cost of Consumer Returns
Retail moves fast and with so much focus on increasing sales, it is easy to lose sight of some of the problems brewing within value chains. One such issue deserving of more attention rests with consumer returns. In 2022, consumer returns accounted for over $800 billion in retail value. To put that into context, 2022 U.S retail returns would have ranked as the 22nd largest global economy, just ahead of Switzerland!
Electronic goods make up a significant portion of those returns, and a large percentage of them end up in landfills. In fact, 57.4 million metric tons of e-waste were generated in 2021 alone. Each and every consumer returned product which ends up in a landfill represents an unnecessary cost to the environment, communities, and our economy.
Verdi's Solution
Our mission at Verdi Commerce is to encourage and support brands to rethink how they handle customer returns and reverse logistics. The decision by OEMs (Original Equipment Manufacturers) to scrap returns or pay retailers to destroy leftover products only contributes to the problem. Our team has developed an innovative recertified product remarketing program that gives those brands another option, one that helps avoid sending resources to landfills.
We work directly with leading brands to help them bring consumer returns back to market and prevent them from being lost to landfills. In 2021 alone, we purchased and resold over half a million refurbished goods, all of which were repurposed rather than disposed of!
By partnering with leading brands, our remarketing efforts helped reduce GHG emissions by over 58,000 metric tons of CO2(eq) and prevented the use of over 2.3 million pounds of plastic, 1.8 million pounds of metals, and over 748 million gallons of water–This is the power of the circular economy! Furthermore, this data empowers our brand partners to make informed decisions about their return policies and practices, leading to a more sustainable future for all.
In an effort to bring the power of circularity directly to the final consumer, we recently launched a new D2C website, Verdi.com, which exclusively sells brand certified refurbished electronics. We leveraged the same circularity model used by our brand partners to inform customers of the impact they are making by selecting a refurbished product rather than a new one. Our goal is to make Verdi.com the destination for consumers that value the environment and want to use their purchasing power to make a difference!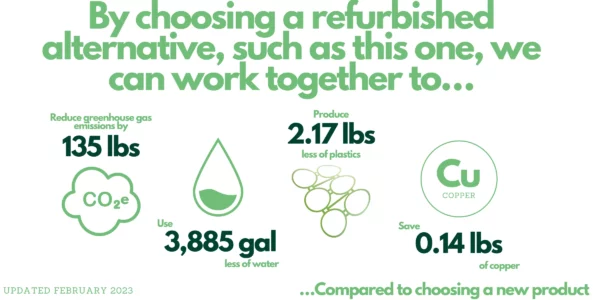 Earth Day is an Opportunity
This Earth Day, let us all commit to making more sustainable choices in our lives and businesses. At Verdi Commerce, we will continue to champion the cause of reducing waste and promoting a circular economy. Together, we can make a significant impact on preserving our planet for future generations.
As the retail landscape evolves, Verdi Commerce is prepared to adapt and grow, constantly seeking new opportunities to expand our reach and impact. Our focus on sustainability and our dedication to our partners' success will remain at the core of our business, ensuring that we lead the charge towards a greener, more responsible future.
We invite you to join us in celebrating Earth Day and embracing the principles of sustainability. Happy Earth Day!